Only one more day remains until the Summer festivities come to an end. There are some neat things to be gained in LotRO during the festival and one of them is unique race dance emotes. I just did that quest last night with all the races and it was fun to type in /dance_hobbit and see the new emote. Trinity at www.female-gamer.com has a comprehensive list of things you can do along with a video of all the new dances.
Under the Banner reports that Turbine plans on upgrading its lorebook with Google API Maps of in game locations. I can imagine a few fansites getting really disappointed by this decision I just hope that Turbine doesn't include web comics into their omnipotent lorebook. Read the full news report by Under the Banner here.
Lotrovault keeps providing great LotRO related content. This weekend they added another 15 new ABC notation music files with mp3 previews of what they sound in-game.
If you have any news related to LotRO that you found interesting and would like to share with our readers please visit our Forums and post the links or use the contact us form and submit them.
One final thing - it's Monday - I can't imagine anyone being too cheerful about it. Here's something I found on the European forums to cheer you up. I don;t know who the original author is and if you do please let me know so I can credit them properly.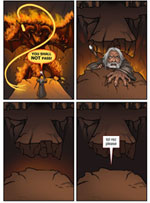 Click on the image for larger version