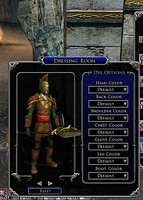 We would like to thank Audessa, Tawariel and Hellfanger for all schreenshots of the new warden sets. Additional input and data are always welcome!
If you haven't seen new
Warden sets Town-Saver Level 50
PvMP Set Level 50
Platinum Coins Set Level 58-60
Copper Coin Set The Hall Warden Level 58-60
Silver Coins Set Level 60
Gold Coins Set Level 60
Warden set Moria Beta Level 60
you should check out our Warden set gallery.