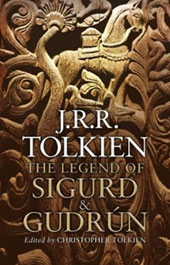 HarperCollins is to publish a new book by the late Lord of the Rings author J.R.R. Tolkien. The Legend of Sigurd and Gudrun, edited and introduced by Tolkien's son Christopher, will be published on 5 May 2009.
When did J.R.R. Tolkien write The Legend of Sigurd and Gudrun?

The previously unpublished work was written while Tolkien was professor of Anglo-Saxon at Oxford University during the 1920s and '30s, before he wrote The Hobbit and The Lord of the Rings.
Have pieces of this work been published before?
It will be the world first publication of a previously unknown work by J.R.R. Tolkien, which tells the epic story of the Norse hero, Sigurd, the dragon-slayer, the revenge of his wife, Gudrun, and the Fall of the Nibelungs. No part has ever been reproduced or quoted from since it was written over 70 years ago.