While I was following various links during the last few days, I came across several interesting sites that I would like to share with you.
The first one Tolkien Tour is about a group of brave adventurers who ended up in Birmingham, where Tolkien spent many years of his childhood.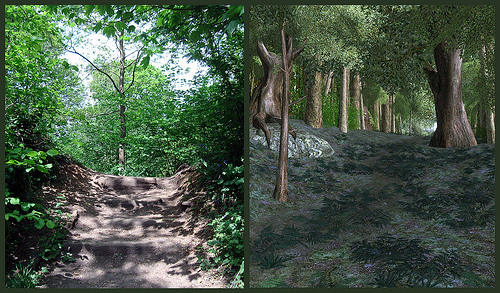 Moseley Bog is now a nature reserve with many old trees covered in ivy and wooden bridges which guide you safely over the patches of swamp. It is said that this area inspired Tolkien for the Old Forest and the Fangorn Forest when he was writing the Lord of the Rings.

The second one Parma Tyelpelassiva - The book of silver leaves is dedicated to the Elvish languages Quenya and Sindarin.
If it is your wish to find knowledge about the Elvish languages, you have come to a good place! If you do not speak Quenya or Sindarin,
you should take a look at the language courses. If you are able to understand these languages, then I wish you joy in reading through
the poems and texts!
And, the last one is about the fall of Sauron on senorgif.com