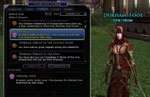 This year Lotro April Fools starts with a letter in the mail, asking you to talk to a town crier. Talk to any crier to enter the session play and get the quest Chicken Run which tells you to arrive outside of Glan Vraig without being defeated. The only problem is that the starting spot has become a battle camping spot for freeps and creeps - fighting over the chickens. As a final reward new title is waiting for you - Fool!
The best part of the April Fools for all EU players is that April Fools won't be on the 1 April:
The Chicken April fools event comes with Book 7. We will run this event on a date after Book 7 is live on EU servers.
LOTRO Community Officer Faya
Due to the load on our servers caused by the April Fool's chicken session play, we are disabling the quest. Please note if you receive a mail, you cannot turn it in with the quest disabled. We hope you had fun while it was open, and we're sorry the quest bawked!