LOTRO fans, it's time to show your artistic and creative skills: Turbine is giving you the opportunity to submit your very own design for a horse which could be taken and implemented into the game as a player mount in a future content update.
Below you can find the design template to use when creating your unique design. Please note, you only need to complete the side on view to complete a successful entry. The top-down and front views are there for additional details if you wish to provide them.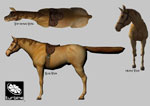 The areas of customization on the mount include:
Horse's color and marking
Horse blanket pattern and color
Horse saddle
In addition to having your horse design immortalized in the live game, the winning entry will also receive a Turbine goodie bag and a unique forum title. Two runners up will also be awarded the Turbine goodie bags and forum prizes.
Click here to see some of the existing horse designs currently in The Lord of the Rings Online