Horse Routes in Eregion
by Elelros
There are two roads to Trollshaws. One comes out in Giant Valley, the other is a waterfall in Tal Bruinen.
The deed 'Silent and restless' is for quest completion in Eregion. It has 4 levels the same as you will have found in many other zones in Eriador. If you start in Gwingris, you'll find you can complete enough quests to access the swift travel options as you travel further south. (Saying this, you'll want to get to the SE first to start Volume 2, as when you get your first legendary, you can go back to Gwingris and start the quests there while leveling up the item at the same time).
Silent and Restless
Tier 1: +1 Honesty
Tier 2: +1 Charity
Tier 3: +1 Compassion
Tier 4: +1 Empathy
The quests in Eregion are around 48-53, then Moria is 53-60, but also Nimrodel is around 57-60
A map of Eregion to show where the towns are: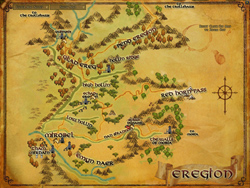 Click to enlarge

Echad Dunann
Rivendell Normal travel

Rivendell Swift travel - Requires deed: 'Silent and restless (advanced)'
Echad Eregion Normal Travel
Echad Eregion Swift travel - Requires deed: 'Silent and restless (intermediate)'
Echad Mirobel Normal travel

Echad Mirobel Swift travel - Requires deed: 'Silent and restless (final)'
Gwingris normal travel
Gwingris Swift travel - Requires deed: 'Silent and restless (basic)'


Gwingris
Rivendell Normal travel
Rivendell Swift travel - Requires deed: 'Silent and restless (advanced)'
Echad Dunann normal travel

Echad Dunann swift travel - requires deed: 'Silent and restless (intermediate)'
Echad Mirobel Normal travel
Echad Mirobel Swift travel - Requires deed: 'Silent and restless (final)'
Echad Eregion Normal Travel
Echad Eregion Swift travel - Requires deed: 'Silent and restless (intermediate)'

Echad Mirobel
Rivendell Normal travel
Rivendell Swift travel - Requires deed: 'Silent and restless (advanced)'
Echad Dunann normal travel
Echad Dunann swift travel - requires deed: 'Silent and restless (final)'
Echad Eregion Normal Travel
Echad Eregion Swift travel - Requires deed: 'Silent and restless (intermediate)'
Gwingris normal travel
Gwingris Swift travel - Requires deed: 'Silent and restless (basic)'

Echad Eregion
Rivendell Normal travel
Rivendell Swift travel - Requires deed: 'Silent and restless (advanced)'
Echad Dunann normal travel
Echad Dunann swift travel - requires deed: 'Silent and restless (intermediate)'
Echad Mirobel Normal travel
Echad Mirobel Swift travel - Requires deed: 'Silent and restless (final)'
Gwingris normal travel
Gwingris Swift travel - Requires deed: 'Silent and restless (basic)'

Rivendell
Echad Dunann normal travel
Echad Dunann swift travel - requires deed: 'Silent and restless (advanced)'
Echad Mirobel Normal travel
Echad Mirobel Swift travel - Requires deed: 'Silent and restless (final)'
Echad Eregion Normal Travel
Echad Eregion Swift travel - Requires deed: 'Silent and restless (intermediate)'
Gwingris normal travel
Gwingris Swift travel - Requires deed: 'Silent and restless (basic)'